Adoptions can be stressful if you are more focused on the paperwork than your newest family member.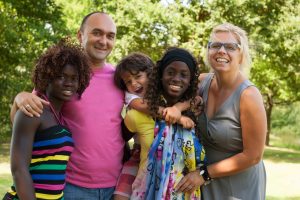 Adoption Law in Ohio has some unique aspects to it. The experienced adoption attorneys at Dagger Law can help you navigate some of the tricky aspects associated with adopting, or providing foster care, so that you can focus on what matters most to you; Family. Let us help you with the time consuming aspects of this process. Whether you reside in Columbus, or in Lancaster, we have you covered. Check out the nearest location to you by clicking HERE
In Ohio there are four types of adoption:
International
Public
Private Agency
Private Independent
International
As you might expect, international adoptions are often the most complicated, expensive, and take the most time. This is primarily because an international adoption requires that an adoption satisfy the laws of both Ohio and the country that the child is being adopted from. International adoptions are governed by the Hague Adoption Convention, which was put into place in order to provide oversight and protection from unethical adoption practices, abductions, and scams. Some unique items that will be required for an international adoption are:
Proof that the foreign adoption agency has obtained legal consent from the biological parents. This may also include proof that the agency has attempted to place the child in their home country, and that the parents have received counseling regarding the adoption 
Adoptive parents will need to apply for an immigrant visa for the child. If approved, the child will obtain  citizenship status upon entering the United States
Proof that the adoption agency is certified through the U.S. State Department
International adoptions can be handled by an adoption agency, or an attorney who handles adoptions.
Public Adoption
This takes place when a child in custody of the state, and has likely been removed from the birth parent's home due to abuse, neglect, or the parent's substance abuse. Because public adoptions are often subsidized by the state, or county, the cost of adoption is comparatively low, and they tend to move faster. That said, it is more common for public adoptions to take place when a child is older, has some special needs, and may be placed for adoption alongside siblings. 
Public adoptions can be handled by a public children's services agency or a private agency that specializes in placing foster children. 
Private Agency Adoption
Private agency adoptions are similar to private adoptions, but are handled by an adoption agency licensed by the state of Ohio. In most cases, this involved the birth parent surrendering the custody rights to an adoption agency. In these cases, birth parents may have some say in where their children are placed. While the adoption agency has the right to place the child as they please, they will most likely try to honor the birth parent's wishes. Agencies can obtain the parent's surrender of custody in the hospital or home, which can be less stressful on the birth parents. 
Private Independent Adoption
In Ohio, the private independent adoption is coordinated by a lawyer. These are typically adoptions where the child is not in the custody of the state, county, or private agency, and involve a arrangement between the adoptive and birth parents directly. In Ohio, an adoption attorney is not able to represent both the adoptive and birth parent interests in an adoption. Most children adopted this way are infants. 
If both parents consent to the adoption, they can provide that consent in an attorney's office or in front of a judge. If only the mother is surrendering the child, the consent must be given in front of a judge or magistrate. 
Dagger Law's experienced adoption attorneys can provide legal guidance to either the birth parents, or the adoptive parents. Whether you are making the difficult decision to give your child up for adoption, or you are starting a new chapter in your life with an adopted child, we are here to ensure that your rights are protected. 
Open Adoption in Ohio
In Ohio, the law requires that an adoption attorney or adoption agency inform both the birth parents and adoptive parents about the availability of open adoption agreements. Open adoption agreements must be approved by the respective county probate court. The court cannot refuse the agreement unless one of the following issues occurs:
Adoptive parent's full parental control and authority are limited
Birth parents are given parental control or authority
Deny adoptive parents, or child, access to anything in the adoption file (social and medical history, etc)
While the courts have to approve an open adoption agreement, these are not enforceable in Ohio and may be immediately discontinued by either party. Because of this, we recommend that any open adoption agreements be limited, and followed precisely.Dagger Law's adoption attorneys can help you negotiate and clarify the terms of any open adoption agreements that you may desire. 
Step Parent Adoptions
A step parent adoption can be relatively simple if both birth parents consent. While laws differ from county to county, in Ohio, we recommend the use of an adoption attorney to ensure that all paperwork is completed and filed correctly so that the process runs smoothly. 
If a step parent adopts the child, the birth parent that has given up rights to the child will no longer have the right to visit or support the child. The child will no longer inherit through the parent that has consented to terminate the parenting relationship. Once an adoption by step parent is complete, the child will be issued a new birth certificate showing the adopting parent's name. 
If one of the natural parents doesn't consent, or if one of the natural parents can't be located, this can be a long and potentially costly venture. Because of the legal paperwork involved, these instances will require an adoption attorney. There  are some exceptions, but it should be expected that any step parent adoption, without full consent from both natural parents, will take no less than six months. 
Kinship Adoptions (Grandparent Adoptions, etc)
In cases of kinship adoptions, a relative or other adult who has established a relationship or bond to the child, will take over full-time care of a child whose parents are unwilling or able to provide adequate care. While thought of as an adoption, a kinship adoption can be an informal agreement, relative foster care, guardianship, or legal custody arrangements. These are most often meant to provide temporary placement while the birth parent focuses on drug or alcohol rehab, parenting classes, or other court ordered requirements for regaining full parental rights. 
If the birth parents are alive, they must still consent to the kinship adoption and can relinquish parental rights through juvenile or probate court. If the parents do not agree to the kinship adoption, there is little that can be done until the state determines that parental rights must be legally terminated. This is often accomplished through a Children's Services intervention. 
While some of the arrangements listed above are temporary, a kinship adoption can also be permanent and entitle the child to all rights of a biological child in the adoptive family. 
Adult Adoptions
While rare, Ohio does allow for adult adoptions in the following cases:
Adult was in permanent custody of the state at the time of their 18th birthday
Total and permanent disability
Developmental disability
If a parent/child relationship was established while the child was a minor
Will an attorney travel to me, or do I need to come to your offices in either Lancaster or Canal Winchester? 
While some meetings will need to be held in our offices, we do try to minimize your travel time by offering two convenient locations in both Lancaster and Canal Winchester, Ohio. It is our goal to minimize the disruption to your life caused by legal issues, and many communications or meetings can be conducted through emails or phone calls. In certain circumstances we realize that it isn't possible for clients to reach us, and visits to your location may be required. If a Dagger Law attorney is retained to represent you, they will travel to the necessary court hearings and legal procedures in order to represent you, anywhere in Ohio! Please note that in some instances the cost to represent your case may require an unusual amount of money due to travel expenses. In such cases, we may recommend using legal representation closer to the location of your case. We are happy to provide referrals in these instances, if we are able. 
Contact one of these Adoption Law attorneys for assistance.
Click on photo to access an attorney's contact information.