Divorce, or Dissolution, decisions are difficult enough on their own. When there are children involved, it becomes more complicated. A few items that must be considered are Child Custody, Visitation plans, Child Support calculations, and possibly Grandparent Custody or Visitation. Our experienced lawyers can assist you through this difficult process.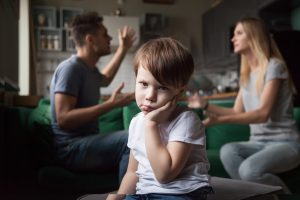 Child Custody, and visitation, are common phrases used to describe the legal assignment of responsibility and rights related to the care of a child.
In Ohio, these are combined to create what is known as Parenting Time, when discussing the rights of a parent. When talking about non-parent rights the terminology is Companionship or Visitation Rights. Parenting time is generally awarded to the non-residential parent, with orders from the court typically focusing on frequent and continuing contact for both parents. It is possible that the court could find that ongoing contact with one, or both, parents is not in the best interest of the child.  
Factors considered by the court, when determining and granting Parenting Time, include:
Location of each parent's home, and the distance between them
Willingness of the parents to work together to reschedule missed Parenting Time
Plans for either parent to live out of state
Physical and mental health of all parties, including the children
Availability of the parents based on work schedule, child's school, vacation, and holiday schedules
Time available to spend with siblings
Age of the children involved
Health and safety of the children
The Child's ability to adjust to new homes, schools, and communities
This is a basic list, but our lawyers will ensure that a comprehensive look at all factors is conducted if you select our dedicated lawyers to represent your interests. If you are looking for child custody and support lawyers near you, then we have you covered. With two locations we can easily serve residents in Columbus, Canal Winchester, or in Lancaster. Check out the nearest location to you by clicking HERE
Visitation rights for non-parents, which includes Grandparent Visitation, can be granted if the following conditions are met: 
A motion is filed with the court, identifying the individual seeking visitation
It can be determined that the individual has an interest in the child's welfare
Granting visitation is in the best interests of the child.
Dagger Law, and Ohio courts, recommend that all parties work together to create a plan that can be agreed upon. Not only is this less stressful for the children, but a willingness to cooperate can ensure a limited amount of time and money is spent getting to the end goal of a new life. If cooperation is not forthcoming, you can be assured that the Family Law attorneys at Dagger Law will fight for your rights, in the courtroom. 
Child support in the state of Ohio has recently changed (

28 March, 2019

).
On 28 March, 2019, Ohio updated its Child Support Guidelines for the first time in 25 years. If you are currently paying Child Support as the result of a court order, Dagger Law recommends that you educate yourself on the changes in the law to see if a modification to your Child Support order would be beneficial. Attorneys at Dagger Law are willing, and able, to help you answer any questions, or provide assistance in getting a modification. 
A few important changes to the Child Support guidelines in Ohio are:
Updated economic tables which changed the formula for support based upon parent incomes
Increased the economic table cap from $150,000 combined income to $300,000 combined income
Reductions in child support possible if a standard (90 nights or more) or equal (147 nights or more) are reached during Parenting Time, and the individual is exercising their Parenting Time
Standard income deductions for each child of the payor, treating each child equally even if there are different child support orders 
Established a "self sufficiency reserve" which can assist lower income payors in keeping some cash to support themselves after Child Support obligations have been met 
Will an attorney travel to me, or do I need to come to your offices in either Lancaster or Canal Winchester? 
While some meetings will need to be held in our offices, we do try to minimize your travel time by offering two convenient locations in both Lancaster and Canal Winchester, Ohio. It is our goal to minimize the disruption to your life caused by legal issues, and many communications or meetings can be conducted through emails or phone calls. In certain circumstances we realize that it isn't possible for clients to reach us, and visits to your location may be required. If a Dagger Law attorney is retained to represent you, they will travel to the necessary court hearings and legal procedures in order to represent you, anywhere in Ohio! Please note that in some instances the cost to represent your case may require an unusual amount of money due to travel expenses. In such cases, we may recommend using legal representation closer to the location of your case. We are happy to provide referrals in these instances, if we are able. 
If any of the above situations may apply to you, contact one of the Dagger Law attorneys below for assistance:
Click on photo to access an attorney's contact information.