***Covid Update 7/14/2020***
For the protection and peace of mind of our clients, staff, and the community at large, Dagger Law has established an office policy to practice social distancing and to conducting business by phone and email based on the attorney's discretion and safety of all involved. 
Under certain circumstances, it may be necessary for clients to visit our office in order to attend meetings, review and sign documents, or for depositions. In these instances, appointments will be coordinated through your attorney and specific guidance regarding the meeting will be provided so that the meeting can go smoothly and quickly. Though we are accepting unscheduled, in-person, visits we request that  every effort be made to set an appointment, the interests of public safety.
For your convenience, we do have a drop box, labeled "night drop" located in our rear parking lot on the left set of double doors as you look at the building. If you need to drop off a payment, or paperwork, we ask that you consider the use of this option to minimize any unnecessary social contact between clients and staff. We understand that not every packet of papers will fit in the slot, and that there may be times when you may have questions about your paperwork that may be answered before you hand them over to our attorneys and staff. If this is the case, we ask that you proceed to our main reception area located on the Main Street side of our offices. This reception area is staffed during working hours, and can assist clients with most questions. If you need a notary, our reception desk can also provide this service to you, quickly and safely.
We are not requiring the wearing of face masks by clients of the firm, but ask that you consider this option for the safety and protection of others, as recommended by the Governor of Ohio and the CDC. Dagger Law will be adhering to the new Ohio Public Health Advisory System, which uses four levels of Covid-19, public emergency, severity to determine what additional precautions might be necessary for the safe operation of our business. We encourage all clients and visitors to be aware of the current state of this advisory system before coming into our offices so that we can ensure that all parties are adequately protected. Some disposable masks may be available by request, as supplies last, for those clients who visit the firm in person. Staff and attorneys will wear face masks to the maximum extent possible, but may need to remove them in order to be heard clearly, or to have hard-of-hearing clients read lips. In these cases we will make every effort to institute the recommended six foot social distancing measures, if possible, in our office spaces and conference rooms.  
Thank you for your cooperation and assistance with our efforts to keep the community safe. It is our hope that by acting with caution now, we may return to a more normal state quickly.
Dagger Law Firm has two convenient locations to better serve clients in Fairfield county, Franklin County, and throughout Central Ohio.
While many of our attorneys meet with clients in both office locations, not all do. If you have questions about whether a particular attorney will meet with clients in our Canal Winchester office, we suggest you discuss this with your attorney prior to beginning work. For more information about our office locations, and for directions or parking guidance, please select the location that is most convenient for you.
Dagger Law: Lancaster, Ohio, Office
There is typically ample free parking available on Main Street in front of our Lancaster Office or in the lot behind our building. On occasion, parking on Main Street can fill up due to restaurant or court activity (See map below.) Please note the following suggestions to make your visit easier:
If you are dropping off a payment, paperwork, or other deliveries, please enter through our front lobby or utilize the convenient night drop box behind our building located at the set of double doors on the left side building in the parking lot. 
Access to the parking area behind our offices is from South High Street only, as the alley is one-way moving from High Street to Broad Street by the Lancaster Police Department.
Handicapped access is from the rear parking lot. Entering the front of the building requires traversing three steps. If you require handicapped access, including bathrooms, please let us know so we can schedule to meet you in an appropriate conference room to best accommodate your visit.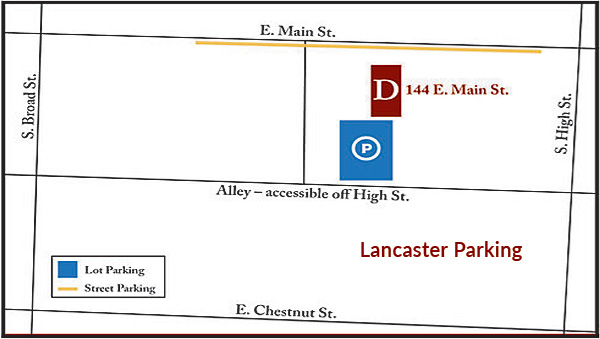 ---
---
Dagger Law: Canal Winchester, Ohio, Office
There is plenty of free parking, with a two-hour limit, available on the streets (indicated in yellow) near our Canal Winchester office and in the public parking lots for Downtown Canal Winchester (indicated in blue). Please reference the map below to easily locate a parking area near our office.
Please be aware that our Canal Winchester office is a second story location with no handicapped access. If you prefer to meet in Canal Winchester, and require handicapped meeting space, we will attempt to make other arrangements to meet with you, as the situation warrants.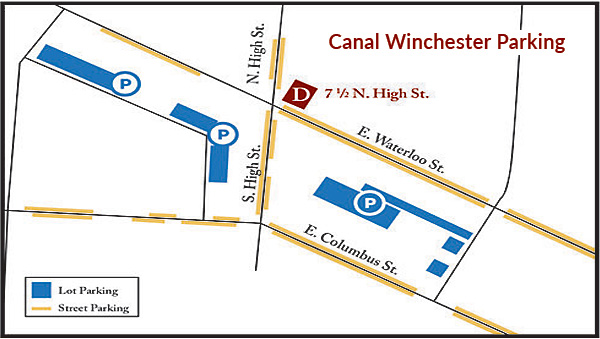 Will an attorney travel to me, or do I need to come to your offices in either Lancaster or Canal Winchester? 
While some meetings will need to be held in our law offices, we do try to minimize client travel time by offering two convenient office locations for meetings. We find that these offices are conveniently accessed by those in Fairfield County, Franklin County, Perry County, Hocking County, Pickaway County, and Licking County. Our primary service area includes Southeast Columbus, Bexley, Reynoldsburg, Pickerington, Obetz, Circleville, Newark, Logan, New Lexington, Canal Winchester, and Lancaster, Ohio. It is our goal to minimize the disruption to your life caused by legal issues, and many communications or meetings with your attorney can be conducted by email, video conference, or phone calls. In certain circumstances we realize that it isn't possible for clients to physically get to our locations. In these instances, visits to your location may be required and your attorney can schedule those meetings as they feel it is appropriate. If a Dagger Law attorney is retained as legal counsel, they will travel to all of the necessary court hearings and legal procedures in order to represent you, even if that court is across the state of Ohio. Please note, however, that in some instances the cost to represent your case may require an unusual amount of money due to travel expenses. In such cases, your lawyer may recommend using legal representation closer to the location of your case, or parts of your representation will be handled by a trusted law firm of Dagger Law's choosing. We are happy to provide referrals for those instances where we can not provide legal counsel in a cost effective manner, if we are able.