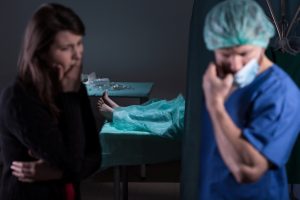 Wrongful death law is an area of law that seeks to provide financial compensation to the next of kin of a person whose death was caused by the negligent, willful, or wrongful act, neglect, omission, or default of another. Settlement of wrongful death claims in Ohio require the appeal of the Probate Court, even if all parties are otherwise in agreement.
In 2017, the US Center for Disease Control and Prevention reported that accidents and unintentional injuries were the third highest leading cause for death in the United States. It is a sad, but ever present, truth that the high rate of these incidents are likely to touch our everyday lives. These accidents are caused by the negligence of either an individual or organization, and the resulting deaths can be attributed to issues which included medical malpractice and workplace accidents. It may also be helpful to think of this as arising from a situation in which there would have been a valid personal injury claim if the death had not resulted. 
A wrongful death could occur as a result of a variety of situations, including:
Medical malpractice that results in decedent's death
When a victim is intentionally killed (this is separate from a murder or manslaughter criminal charge)
Neglect or abuse on the part of a nursing home that results in decedent's death
Automobile, bus, train, airplane or other common carrier accident that results in a fatality as the result of negligence
Occupational exposure to hazardous conditions or substances (exposure to asbestos, etc), though these may need to be resolved through Workers Compensation claims 
Our lawyers who practice in the personal injury area also are well-versed in litigating or otherwise resolving wrongful death claims, and have significant experience in not only resolving the dispute, but in getting the Probate Court's approval of any settlement or distribution. Whether you are located in Central Ohio, Southeastern Ohio, Fairfield County, Hocking County, Licking County, Pickaway County, Franklin County, Lancaster, Baltimore, Circleville, Buckeye Lake, Newark, Logan, Canal Winchester, the Greater Columbus area or other locations nearby; we have you covered. Check out the nearest location to you by clicking Our Locations Page
The First step:
Before calling, it is important that you gather as much evidence as you can. This may include medical bills, notes that you took regarding your loved one's medical condition and treatment, police reports, emails discussing concern over an unsafe working condition, pictures of commercial products showing unsafe conditions, and many more. Even if you think a detail may not be significant, we ask that you gather it for our attorneys to review. Based on experience and an understanding of the law, we may be able to use evidence that you regard as "junk." 
After we have received all of your evidence, our attorneys will conduct their own investigation, review the provided materials, and legal research to determine if your case has merit. While it is our goal to fight for your right to collect an award for damages, it is regrettable that some cases may be declined.  
Wrongful death claims can be filed by a representative of the deceased victim's estate, on behalf of those who had a relationship with the victim. A lawyer can help determine which survivor relationships may have a valid claim for damages. 
Wrongful Death Damages:
Damages, which arise from the compensation for loss, in a wrongful death claim may include the following:
Loss of consortium
Loss of Love/companionship
Loss of care, as in the instance of a child who loses a parent, or potentially even an elderly parent who loses a child who acts as a caregiver
Value of the loss of services that the deceased would have rendered
Loss of inheritance
Loss of expected income from the deceased
Funeral or burial costs
Pre-death suffering on the part of the deceased, which also might be called a survival claim
Cost of any medical treatment incurred as the result of the injury that resulted in death
How much will it cost?
With the unexpected death of a loved one comes confusion, stress, and profound grief. Dagger Law seeks to represent our clients in an expedient manner, and the last thing we want someone to be worried about, after such a tragic event as a Wrongful Death, is how much a lawyer will cost. We handle Wrongful Death cases on a contingent-fee basis. This means that our firm collects a percentage of the overall settlement from an insurance company, or award from a trial, as compensation for our experienced legal counsel. Whether your case takes one month, or 18 months, our fee is always a percent of the award. Before retaining services from a Wrongful Death attorney from Dagger Law, Clients meet with their attorney to discuss the case and to ensure that the fee agreement is clearly understood. 
Will an attorney travel to me, or do I need to come to your offices in either Lancaster or Canal Winchester? 
While some meetings will need to be held in our offices, we do try to minimize your travel time by offering two convenient locations in both Lancaster and Canal Winchester, Ohio. It is our goal to minimize the disruption to your life caused by legal issues, and many communications or meetings can be conducted through emails or phone calls. In certain circumstances we realize that it isn't possible for clients to reach us, and visits to your location may be required. If a Dagger Law attorney is retained to represent you, they will travel to the necessary court hearings and legal procedures in order to represent you, anywhere in Ohio! Please note that in some instances the cost to represent your case may require an unusual amount of money due to travel expenses. In such cases, we may recommend using legal representation closer to the location of your case. We are happy to provide referrals in these instances, if we are able. 
Don't see your particular issue listed above? That is no problem! We enjoy a challenge, and are happy to assist you with the legal issue that you are facing. Use our convenient Contact Page to schedule an appointment to discuss your legal matter with an attorney. 
Contact one of these Dagger Law attorneys for assistance, Today.
Click on photo to access an attorney's contact information.