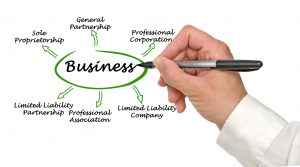 The experienced attorneys at Dagger Law can help you determine what the best business structure best suits your needs, whether it is Incorporation, establishing a Nonprofit organization, or many other options.
Depending on what you chose there can be significant, or subtle, changes to taxes, liability, management and control, funding options and opportunities. By meeting with one of our Business Law attorneys, you can be sure that you will receive guidance that you can confidently put into action. We can assist with the formation of any of the following business structures:
Limited Liability Company (LLC)
Incorporation (Inc)
General Partnership or Limited Liability Partnership (LLP)
Corporation (both S Corp and C Corp)
Sole Proprietorship
501 c 3 and Not for Profit/nonprofit filings
While we can't predict every question you might have, here are a couple that we hear regularly.
Q: How much does it cost to set up my own company?
A: It can depend on the complexity of the structure, and the amount of work required by the attorney to ensure that all aspects of liability and taxation are legally covered. For most basic services these filings can be accomplished for a flat fee, and our attorneys will handle all the proper filing and recording for you. 
Q: Can't I file with the Ohio Secretary of State on my own?
A: In many cases, you can file and register yourself. As of April, 2019, there were over 120 different forms available on the Ohio Secretary of State website. Do you know which ones you need? Our experienced attorneys do, and they can handle this tedious task on your behalf. After that there are the communications with the IRS, Ohio department of taxation, and all the proper licenses and permits. By utilizing and attorney you can ensure that the process is handled quickly, correctly, and with all of the necessary legal framework. It can be easier to utilize an attorney to establish the business, than to use an attorney to fix anything that goes wrong as the result of not understanding which business structure to use. This really depends on your comfort level with completing the required paperwork, and willingness to assume future risk.
We would advise that you use an attorney to handle the legal aspects, as a trusted resource for you to lean on, which will allow you to stay focused on the rest of your business planning. Most businesses will find, at some point during their operation, that they will need to seek the services of an attorney. Whether that is because of employee issues, a lawsuit filed by a customer, or because you need a contract reviewed, working with a lawyer from the start can help establish that relationship with a person who is aware of your goals and plans from the very beginning. Whether you reside in Columbus, Canal Winchester, or in Lancaster, we have you covered. Check out the nearest location to you by clicking HERE
Will an attorney travel to me, or do I need to come to your offices in either Lancaster or Canal Winchester? 
While some meetings will need to be held in our offices, we do try to minimize your travel time by offering two convenient locations in both Lancaster and Canal Winchester, Ohio. It is our goal to minimize the disruption to your life caused by legal issues, and many communications or meetings can be conducted through emails or phone calls. In certain circumstances we realize that it isn't possible for clients to reach us, and visits to your location may be required. If a Dagger Law attorney is retained to represent you, they will travel to the necessary court hearings and legal procedures in order to represent you, anywhere in Ohio! Please note that in some instances the cost to represent your case may require an unusual amount of money due to travel expenses. In such cases, we may recommend using legal representation closer to the location of your case. We are happy to provide referrals in these instances, if we are able. 
Contact one of these Dagger Law attorneys for assistance with your business structuring needs.
Click on photo to access an attorney's contact information and read more about their experience in the field.