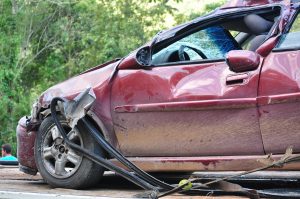 If you've been a victim of a personal injury car accident, you may be asking yourself if you need to hire a personal injury attorney. Motorcycle accidents, bicycle accidents, car wrecks, work mishaps and slip and falls are all common reasons why people seek representation from personal injury attorneys. It's important to note that personal injuries can occur from a wide variety of causes related to a car accident. IN fact, you don't even need to be a driver or a passenger to be injured because of a car accident. After an accident, you should check for damages and injuries, collect all information, and file a police report. Once you have all the information, you can assess whether you need to hire a personal injury attorney.
Your Injury is Serious
Minor injuries may not require the services of a personal injury attorney. Minor injuries from car accidents occur on a daily basis throughout the world. Things like bruises and surface abrasions sprains typically go away on their own without causing permanent damage. Whether or not you file a claim for a minor injury is your business, but you likely won't need the help of a personal injury attorney to do so. However, if your injury is serious, you will certainly want to contact a personal injury attorney for counsel and/or representation. Serious injuries are those that cause moderate to severe physical, emotional or financial damage. For example, if you suffered an injury that led you to miss work, this would be serious enough to consult with a personal injury attorney. Serious personal injuries are typically associated with hospitalization, surgery, rehabilitation, cosmetic surgery, or physical therapy. These types of injuries usually incur substantial medical costs. With the help of a quality personal injury attorney, you may be able to get reimbursement for these expenses.
Your Injury Was Someone Else's Fault
Even if your injury was serious, it would have to be the fault of someone else in order for it to make sense to hire a personal injury attorney. Most successful personal injury claims are caused by the negligence of the defendant. Your attorney will need to prove legal fault in order for your claim to be considered. For specific information about the kind of admissible evidence or proof, you might need to provide, consult with a personal injury attorney.
You Feel You're Being Railroaded
Many personal injuries related to car accidents involve drivers who are driving company vehicles or driving for work-related reasons. In these instances, it's not uncommon for a large company to have their corporate attorney contact you. In many cases, their attorney may offer you a settlement check with a contingency that you sign something saying you won't pursue any further claim. Sometimes you waive all rights simply by accepting and/or depositing the check. You may be told that this is the fastest and easiest way to "put this all behind you." In reality, it's the fastest and easiest way for the company to quietly placate you with as little money as possible. Make no mistake, their attorney is not interested in anything but keeping you from filing a lawsuit. Anytime you're involved in a car accident and you sustain personal injuries of any kind, consult with a personal injury attorney before speaking with anyone else.
Your Symptoms Might be Hidden
Certain injuries may take months to become evident. Symptoms might not show up right away because your body is filled with adrenaline after a car accident. Other times, the nature of the injury simply hides the symptoms until they become impossible to ignore later on. If you were involved in a motor vehicle accident and "miraculously" came out unscathed, be careful. You might have internal injuries that aren't obvious right away. In an instance like this, save all your notes and evidence so that you can contact a personal injury attorney later on if you begin to experience symptoms later on. 
These guidelines will help you to make the decision about when you should hire a personal injury attorney. If you are still in doubt after an accident, the best course of action is to contact a personal injury attorney for a professional opinion about your particular circumstances.
This has been a guest blog post by Abby Drexler with the permission of Dagger Law. No money has been paid for the use of this blog post and Dagger Law maintains no relationship with the writer beyond the sharing of this informative article.