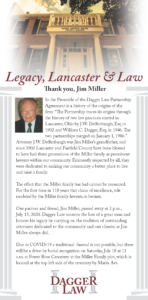 In the Preamble of the Dagger Law Partnership Agreement is a history of the origins of the firm: "The Partnership traces its origins through the history of two law practices started in Lancaster, Ohio by J.W. Deffenbaugh, Esq in 1902 and William C. Dagger, Esq. in 1946. The two partnerships merged on January 1, 1986." Attorney J.W. Deffenbaugh was Jim Miller's grandfather, and since 1902 Lancaster and Fairfield County have been blessed to have had three generations of the Miller family as prominent lawyers within our community. Eminently respected by all, they were dedicated to making our community a better place to live and raise a family.
The effect that the Miller family has had cannot be measured. For the first time in 118 years that chain of excellence, role modeled by the Miller family lawyers, is broken.
Our partner and friend, Jim Miller, passed away at 2 p.m. July 15, 2020. Dagger Law mourns the loss of a great man and honors his legacy by carrying on the tradition of outstanding attorneys dedicated to the community and our clients; as Jim Miller always did.
Due to COVID-19 a traditional funeral is not possible, but there will be a drive-by burial recognition on Saturday, July 18 at 11 a.m. at Forest Rose Cemetery at the Miller Family plot, which is located at the top left side of the cemetery by Marks Ave.