The firm has established itself as one of the leading law firms, in Central and Southern Ohio, in the area of personal injury relating to commercial truck and automobile accidents. Our litigation attorneys have successfully represented injured clients all over Ohio, obtaining large jury verdicts and settlements.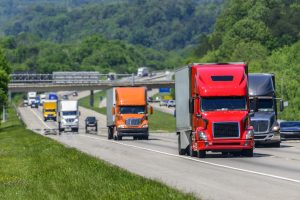 Many of these cases have involved truck or tractor trailer accidents. A tractor trailer or "big rig" is a truck wherein the tractor portion of the truck pulls the cargo portion, or trailer. These large vehicles are on our highways and roads 24/7, and accidents involving tractor trailers are on the rise. In 2017, the Ohio State Highway Patrol reported that heavy truck accidents made up 11% of all motor vehicle fatalities, and there has been a 9% increase in heavy truck related deaths since 2013. The injured party needs to be represented by experienced trial lawyers who knows what to look for, in this particular area of law, and know how to achieve the best result for the injured party. We are now serving new clients in the greater Columbus area, Lancaster, Canal Winchester, all of  Fairfield County, or nearby counties in Ohio. Check out the nearest location to you by clicking Our Locations Page
In 2017, the Ohio Department of Public Safety reported that there were over 303,000 traffic crashes, and over 108,000 of those resulted in some injury to the involved parties. Those are staggering numbers, and unfortunately that means that many of us are going to experience this traumatic event; whether that is personally being involved in an accident or knowing someone who was involved. Do you know what to do if you, or a loved one, are involved in an accident? Dagger Law trucking accident lawyers recommend the following as a quick checklist:
Report the accident immediately. Ensure that police department and, if needed, emergency medical services are called at a minimum. We also recommend that you report the accident to your insurance company in a timely manner.
Start keeping records. Take pictures, get statements, ask for a copy of the police report, and get the other driver's insurance information. All of this information will be important for your insurance settlement, or it will be used as evidence if there is a court appearance required
Protect your rights! This is very important; do not admit fault, do not give a statement to your insurance company, and contact an attorney at your earliest convenience. An attorney who is familiar with auto and truck accidents will know how to best protect your rights and preserve your best chance for a fair settlement from an insurance company. Any statement you make, without consulting an attorney, could jeopardize the insurance settlement you deserve.  
Q: Why are Truck Accidents different from auto accidents?
Damages and injuries are often much greater in accidents that involve a truck. Because of their size, relative to most passenger vehicles, accidents involving commercial trucking is more likely to cause injury or death. A fully loaded semi-truck can weigh more than 80, 000 pounds. The average car weighs approximately 3,000 pounds. The laws of physics are not in your favor if a car accident happens. In addition, their size often makes them an indirect factor in other accidents. 
Trucking is highly regulated and there are particular laws that apply to commercial drivers. These additional rules and regulations can lead to additional layers of complexity that don't exist in accidents involving two privately owned automobiles. 
Many trucks carry a "black box" similar to aircraft, which allows detailed reconstructions of crash scenes. This additional evidence can be complex and may require expert testimony to interpret. This also opens an avenue for additional legal strategies as driver statements and technical data can be compared. 
Who owns the truck, and who is liable, can be complicated. A case may involve the owner of the truck, the driver, the owner or loader of the payload, manufacturer of faulty parts such as tires, and the insurance company! All potentially pointing the finger at someone else and none of them wanting to accept the blame. You can bet that all of those entities will be fighting hard to not own the responsibility, which means that you absolutely need an experienced attorney to wade through the opposition to find the truth. 
Dagger Law firm's experienced personal injury trial lawyers know how to represent clients injured in these trucking accidents. This is important for both settlement and trial purposes.
Knowing what contributes to tractor trailer accidents is crucial in finding the evidence through the use of qualified experts, and accident reconstruction is vital. Car accidents involving tractor trailers can be factually and legally complex. Finding the evidence proving the true causes of the accident and any motivating or aggravating circumstances requires the kind of experience that we can offer from our attorneys. Our trial lawyers also understand the applicable federal and state laws that may have been violated contributing to the accident. Our personal injury attorneys are well prepared to assist injured clients in cases involving truck accident law or tractor trailer accidents.
Q: How much does it cost to pursue a Personal Injury case?
A: The last thing you need is a mounting attorney bill when you are potentially out of work and looking at significant medical bills. Dagger Law handles Personal Injury cases on a contingency fee basis. This means that our firm collects a percentage of the overall settlement from an insurance company, or award from a trial, as compensation for our experienced legal counsel. Whether your case takes one month, or 18 months, our fee is always a percent of the award. Before retaining services from a Personal Injury attorney from Dagger Law, you will have a free consult meeting with your attorney to discuss fees, and to ensure you understand how billing will be handled. Contingency fees can be described as paying for your attorney costs based on a percentage of  those monetary damages collected.  
Q: Will a personal injury lawyer travel to me, or do I need to come to your offices in either Lancaster or Canal Winchester? 
While some meetings with your personal injury lawyer will need to be held in our law offices, we do try to minimize your travel time by offering two convenient locations serving Lancaster and Canal Winchester, Ohio. It is our goal to minimize the disruption to your life caused by legal issues, and many communications or meetings can be conducted through emails or phone calls. In certain circumstances we realize that it isn't possible for clients to reach us, and visits to your location may be required. If a Dagger Law attorney is retained to represent you, they will travel to the necessary court hearings and legal procedures in order to represent you, anywhere in Ohio!! Please note that in some instances the cost to represent your case may require an unusual amount of money due to travel expenses. In such cases, we may recommend using legal representation closer to the location of your case. We are happy to provide referrals in these instances, if we are able. 
Contact one of these Dagger Law personal injury attorneys for assistance.
Click on photo to access an attorney's contact information.