The firm has established itself as one of the leading law firms, in Central and Southern Ohio, in the area of personal injury relating to commercial truck and automobile accidents. Our litigation attorneys have successfully represented injured clients all over Ohio, obtaining large jury verdicts and settlements.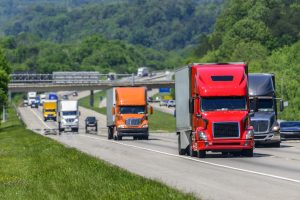 Many of these cases have involved truck or tractor trailer accidents. A tractor trailer or "big rig" is a truck wherein the tractor portion of the truck pulls the cargo portion, or trailer. These large vehicles are on our highways and roads 24/7, and accidents involving tractor trailers are on the rise. In 2017, the Ohio State Highway Patrol reported that heavy truck accidents made up 11% of all motor vehicle fatalities, and there has been a 9% increase in heavy truck related deaths since 2013. The injured party needs to be represented by experienced trial lawyers who knows what to look for and know how to achieve the best result.
In 2017, the Ohio Department of Public Safety reported that there were over 303,000 traffic crashes, and over 108,000 of those resulted in some injury to the involved parties. Those are staggering numbers, and unfortunately that means that many of us are going to experience this traumatic event; whether that is personally being involved in an accident or knowing someone who was involved. Do you know what to do if you, or a loved one, are involved in an accident? Dagger Law attorneys recommend the following as a quick checklist:
Report the accident immediately. Ensure that police and, if needed, emergency medical services are called at a minimum
Start keeping records. Take pictures, get statements, ask for a copy of the police report, and get the other driver's insurance information. All of this information will be important for your insurance settlement, or evidence if there is a court appearance required
Protect your rights! This is very important; do not admit fault, do not give a statement to your insurance company, and contact an attorney at your earliest convenience. An attorney who is familiar with auto and truck accidents will know how to best protect your rights and preserve your best chance for a fair settlement from an insurance company
Our firm's trial lawyers know how to represent clients injured in these accidents both for settlement and trial purposes.
Knowing what contributes to tractor trailer accidents is crucial in finding the evidence through the use of qualified experts, and accident reconstruction is vital. Accidents involving trailers can be factually and legally complex. Finding the evidence proving the true causes of the accident and any motivating or aggravating circumstances requires the kind of experience that we can offer from our attorneys. Our trial lawyers also understand the applicable federal and state laws that may have been violated contributing to the accident. We are well prepared to assist injured clients in cases involving truck accident law or tractor trailer accidents.
Contact one of these Dagger Law attorneys for assistance.
Click on photo to access an attorney's contact information.