FOR IMMEDIATE RELEASE – July 19, 2018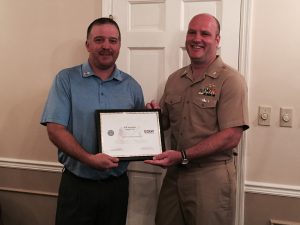 Lancaster, Ohio – Managing Partner Jeff Spangler of Dagger Johnston Miller Ogilvie & Hampson, LLP (Dagger Law) received the Patriotic Employer award from the Office of the Secretary of Defense, Employer Support of the Guard and Reserve (ESGR). Associate attorney Bryan Everitt nominated Managing Partner Jeff Spangler for his continued support, willingness to be flexible, and respect that he shows all the veterans working for Dagger Law.
"Jeff Spangler and all the partners at Dagger Law have really taken the time to mentor me as a new lawyer and allowed me to execute my military commitments without financial penalty," said Bryan Everitt, A Lieutenant Commander in the United States Navy Reserve and attorney at Dagger Law. "The firm employs four veterans out of 34 employees."
The Patriot Award honors supervisors for their superior support of Guard and Reserve employees. An employee serving in the National Guard or Reserve nominates the individual for the direct support they've provided to the nominee. The Patriot Award reflects the efforts made to support citizen warriors through a wide-range of measures including flexible schedules, time off prior to and after deployment, caring for families while the employee is away serving their country, and granting leaves of absence if needed.
"I'm truly honored to receive this award," said Jeff Spangler. "The real heroes are the current and former members of the military we have working for us. We owe them gratitude for their service and commitment to our country. They are the ones who should be recognized."
For more information about Dagger Law firm, or to schedule an appointment with one of our attorneys, please visit www.daggerlaw.com. Media Contact: Julie Theado,  with Krile Communications, can be reached by phone at 614-774-6358, or through email: julie@krilecommunications.com