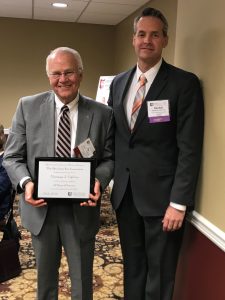 This month, Norman J. Ogilvie, Jr. is being recognized by The Ohio State Bar Association for his 50 years of service to the profession.
The legal profession looked a lot different 50 years ago when Ogilvie started at what is now Dagger, Johnston, Miller, Ogilvie & Hampson, LLP. The pace was slower, there were fewer attorneys, there were typewriters and carbon paper to write endless briefs, research was more involved without the Internet and the bar exam was a three-day test.
Ogilvie was sworn in December 1968. At the time, he was serving in the U.S. Army and was home on leave for Christmas. He served in the Vietnam War his last year in the service. When he was through, he returned home to Lancaster to pursue his career as a lawyer and started at the same firm he's at today.
The legal profession in the 1960s and 1970s was a reflection of economic times – simply put litigation was not as prevalent because people did not have the financial means to hire an attorney. Disputes were often resolved without attorneys.
The one thing that hasn't changed in 50 years? Ogilvie's motivation.
"I believe the beauty of the law practice is being able to deal with people and businesses and the ability to help your community. I enjoy establishing relationships on a personal and professional level and the law profession has allowed me to do that. I like this profession because it has allowed me to use my mind to find solutions to problems and ultimately feel you have a purpose in life. It's a great way to make a living," said Norman Ogilvie, Jr., of counsel at Dagger Law.
Ogilvie is a lifelong resident of Lancaster and graduated Northwestern University (Economics) and earned his Juris Doctor degree from The Oho State University Moritz College of Law. He is extremely active in the community having served as president of the following organizations: Lancaster-Fairfield Chamber of Commerce, Fairfield County United Way, Fairfield County District Library, Lancaster Festival, and Lancaster Rotary Club. He served two terms on Lancaster City Council and was appointed by Governor Rhodes as chairman of the Elected Official and Judicial Compensation Review Commission. He currently serves on the following boards: Community Improvement Corporation; The Lancaster Festival, Inc. and Fairfield County Action. He is also a member of the policy committee of the Lancaster City School District.
He enjoys a general law practice with a focus on family law, estate planning, probate, and business litigation. He is a Fellow with the American Academy of Matrimonial Lawyers and is an Ohio State Bar Association Board Certified Specialist in Family Law.