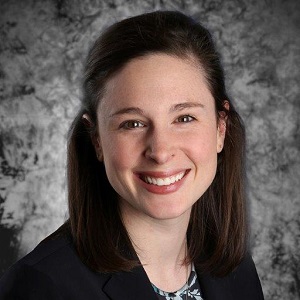 Alyssa Parrott has been promoted and named as a partner with the Dagger, Johnston, Miller, Ogilvie & Hampson law firm. Parrott joined the firm in 2011 and focuses on family law including child custody, adoption, estate planning, and divorce.
"Alyssa has been a valuable asset to our firm for several years and it's an honor to name such a successful, strong and knowledgeable woman to our team of partners," said Jeff J. Spangler, co-managing partner at Dagger Law. "Her passion for our clients, and the legal community in Central Ohio, have added some very positive energy to our firm, and we're looking forward to having her help lead Dagger Law into the future."
Parrott is a past president of the Fairfield County Bar Association and a CALI Award recipient. She was also named a 2019 and 2020 Ohio Rising Star by Super Lawyers. Parrott is a member of the Fairfield County Women's Bar Association, The Ohio State Bar Association, The Rotary Club of Lancaster-Sherman and the Fairfield County United Way. She also serves as a juvenile law instructor at the Ohio University Summer Law and Trial Institute and is a member of the Ohio Supreme Court Juvenile Rule Work-group.  
She graduated magna cum laude from Ohio University with a bachelor's in political science. She received her law degree from Capital Law School with a concentration in children and family law.
"I am looking forward to starting this next phase of my career," said Parrott. "I especially appreciate that I'm able to move into this role at Dagger Law and continue to serve our community in an even greater capacity."