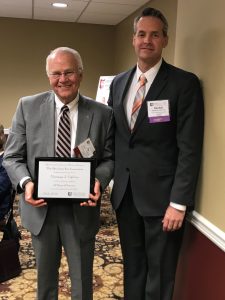 This month, Norman J. Ogilvie, Jr. is being recognized by The Ohio State Bar Association for his 50 years of service to the profession.
The legal profession looked a lot different 50 years ago when Ogilvie started at what is now Dagger, Johnston, Miller, Ogilvie & Hampson, LLP. The pace was slower, there were fewer attorneys, there were typewriters and carbon paper to write endless briefs, research was more involved without the Internet and the bar exam was a three-day test.
Ogilvie was sworn in December 1968. At the time, he was serving in the U.S. Army and was home on leave for Christmas. He served in the Vietnam War his last year in the service. When he was through, he returned home to Lancaster to pursue his career as a lawyer and started at the same firm he's at today.